The shift in Marketing post COVID-19
Date : 2020-09-12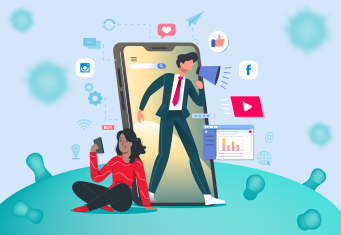 In the last blog, we saw how the crisis of COVID-19 has given birth to a number of innovations all over the world. As the unlock continues, we see second-order effects leading to fundamental shifts in consumer buying behavior and media consumption. There is a spike in Consumer spending on essentials, health & hygiene products; discretionary spending continues to tumble and planned purchases are being put on hold as saving cash has become a priority. As consumers avoid stepping outside, online shopping for groceries and medicines has seen tremendous growth, with orders of leading e-tailing platforms growing multifold even as the e-tailers continue to fix their supply chain issues.
Marketers have postponed or canceled regular campaigns and films that would have been inappropriate to run in these pandemic times. But brands have launched pandemic themed Ad films on television and digital channels using stock footage/images and user-generated content, and produced these films from home-offices, given that many markets are under lockdown. While sportswear brands like Adidas are showing people how to stay fit in their homes, Burger King showed us how to make a quarantine burger.
Research indicates that consumers expect more mindfulness from brands in these testing times by addressing the larger issue of a global pandemic than being opportunistic. They expect brands to communicate around the company's purpose and values. This trend is expected to prevail post the pandemic too. One would expect that instead of resorting to product push strategies, large established brands will gravitate to empathetic communication to connect with consumers on a responsible and deeper level. Advertising, Branding, and Marketing Agencies are also extending their support to their clients by helping them with more sensitive and responsible content creation, adapting to the more economical and relative use of media instead of the earlier huge promotional, offline, and big-budget campaigns. Likewise, the advertising space is seeing explosive growth in digital content consumption (esp. on social media, OTT, and gaming) and significantly increased TV viewership (40%+ over the pre-COVID period), ironically coupled with advertising demand being subdued due to the current situation, except for selective categories like essentials, health & hygiene. Advertisers across industries have responded differently to the situation – while advertisements for essentials, health & hygiene products continue across media, most non-essential categories have restricted communications to digital, Ads for categories under planned purchases have taken a back seat. Few companies are doubling down on brand building by highlighting their efforts towards combating the situation or carrying out CSR activities.
With a constantly evolving situation and no clear timeline by which we will emerge out of the pandemic, brands need to engage in rigorous scenario-based planning assuming different timelines of recovery, changes in consumer behavior and modify budgets. Advertisers/ Marketers need to adopt a digital-first approach as we adapt to a 'new normal'. To ensure opportunity and reality are balanced, media plans also need to be aligned with business strategy, such as the timing of non-essentials demand returning to peak levels, investments in brand building on the back of cheaper inventories, bringing back the older imagery (like few classic old Ads) and recall levels, etc. With this being said, Agencies have to be on their toes to help brands with all these strategy formulations and consultancy.
We at Genesis Advertising, one of the best Advertising agencies in Pune, are constantly adapting to the changing situations and updating our game to give our clients the best possible business outcomes in these critical times.