7 Reasons why you should leave it to the Pro's
Date : 2020-10-20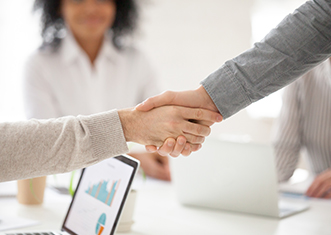 As post the pandemic entire world is going digital, it has become an important platform for marketing and promoting your business to reach maximum people. There are a lot of business owners who feel that Digital Marketing is something that anybody can do and can save the investment of hiring an Agency. We give you 7 reasons why this could be a not so good idea!
Full Fledge team- An agency is a setup that has all the required professionals working together on different activities that form your entire marketing activities. A solo person cannot engage in all the activities like creating the design, creating the content, engaging in digital marketing activities, designing websites, doing SEO, so on, and so forth. So hiring an Agency doesn't just solve the "time is money" issue but also gives you an opportunity to gain access to the knowledge of people and resources who can take you – and your business – to the next level.
Understanding Client and its requirements- One typical trait of a skilled agency is understanding not just the requirement and market but also the thought process of the owner of the company. This is vital because a company represents the value that the founder believes in and reflecting those in any marketing communication is the right way to establish a brand. Detailed analysis and study acts as the basis for brainstorming on the possible ideas and strategies.
A Larger experience with a variety of clients- There is so much to learn about the digital world as Facebook and Google have new algorithm updates going up every day. It is tough even for marketers and agencies to keep up with these trends. So, they live this stuff every day with a variety of clients having different types of businesses. Research and A/B testing are where they get the extensive experience of what works and what doesn't and hence they have the power of knowledge in the field of digital marketing.
Technical Experts- As mentioned in the previous point, having the power of knowledge, each professional in the team working on a specific task in an Agency is the subject matter expert or at least working under one! So same as we trust the Doctor with our health we need to trust the Agency with our marketing goals.
Optimized utilization of inventory- Executing a social media marketing campaign may seem simple, but an effective, far-reaching campaign that generates leads and consumer interest requires a lot of supervision and maintenance. What business owners do not have generally is the time to execute and deliver the marketing campaigns that their business deserves. For solopreneurs saving them time and money, both are the critical requirements at the start of any business. How to spend the budget optimally with maximum results is impossible without involving the Agency.
Professional designing softwares- A good-looking website, Ad, social media post, etc is a necessity of any marketing campaign. Designing all of these on a mobile application, can have a lot of limitations, can be time-consuming and the end result can be lesser than expected. Agencies buy licensed softwares like Corel Draw and After-effects to name a few which are build with scripts and programs to make the designs, sites and videos appealing, appropriate, precise, fast, easy to adapt and change all of which in the end add to the brand experience.
Efficient use of Digital Media- With poor designs, content and digital marketing strategies when in-house amateur marketing activities fail to give the results, accusations are made on the media which actually is working wonders with a reasonable investment for others who are doing it the right way. The success of any digital campaign relies on the sales department sealing the deal. Yet, when sales fall through, the blame can trickle down to the marketing team and media platform instead.
Genesis Advertising has an amazing Digital marketing team & our clients are realizing the importance of it daily with the kind of service and results they are getting while working with us. Connect with us to now more!