Why your website needs to be redesigned
Date : 2019-02-21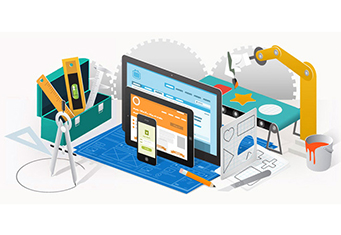 Social media management is the buzzword in today's competitive environment. Creative content and innovative designs are the principle elements which bring efficacy to entire efforts. These aspects are often spoken about whenever Digital Marketing is mentioned – a great way to market your products while raising your brand's awareness and increasing customer loyalty. While it is of great aid in building your brand's awareness, the most important link between all aspects of Digital Marketing is your website. Your website is a stamp of authenticity and trust on the internet, a place where most people research your products & services and assess your capabilities.
An innovative, responsive website design ensures that users are able to navigate the website well and gather information that they need. Around 70% of the time that a user visits a website, it is to research topics or look into the company and its services. Thus your website forms a part of the brand's image and is the first impression for the user. If your website is optimised for the landing page speed, responsive to various devices such as tablets, phones and PC's, and is resourceful, creative and user-friendly in its design, users are more likely to return to the website and convert. A great example of this is the Apple website, which shows a great blend of innovation and optimisation. You can also check the website designs that Genesis has done to get an idea of the redesigning efforts.
Your website proves to be one of the most important tools during the search, attract, and engage stage. A website redesign that is creative in design and innovative in user navigation will attract and engage customers and make sure they return to purchase your product or service. A website redesign also allows for search engine optimisation, an excellent way to build your websites trust factor in the organic search listings.