Online Shopping, A Better Business Idea?
Date : 2019-10-03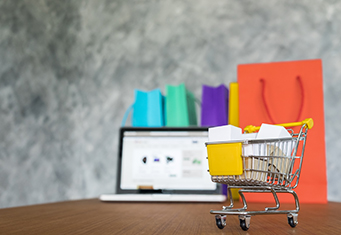 How many of us can say, "I have never shopped online". The chances of a person having access to the internet but has never shopped online are very few. Most of us have, at some point of time, bought something online be it apparel, footwear, gadgets, application, food or tickets to just name a few. With availability of inexpensive cell phones and now the launch of Jio-Fibre, internet convenience at a very high speed is not far-fetched. Browsing from one app to the other is all we do in our free time, be it Amazon, Flipkart, Facebook or Instagram.
Most of the start-ups today are online businesses as the investment in an online store is much lesser than in a physical store. Even the most renowned and sought after brands today have an online store or have tied up with e-commerce companies to increase their brand reach.
If you are someone who is planning to start an online business or looking to expand your current business online then below are a few benefits of online business and how you can promote your online business in the most cost effective way.
Convenience & Ease: Sell anywhere and anytime. A physical store has geographical and timing restrictions whereas an online store is a preferred way of shopping due to its convenience and ease. A physical store also restricts the variety in products you want to buy whereas an online store is open to a vast variety of labels and brands under one roof with very less geographical limitations except for international brands.
Cost effective: An ecommerce store gives the customer the privilege of knowing product rates sitting at home which is not in the case of physical store. They can make your buying decisions in a much relaxing space at home. Talking about Business owners, they will save up on fixed expenses whether they plan on renting the property or buying it and also save on variable expenses like inventory cost, electricity cost, operational cost etc.
Scalability: It's much easier to grow and scale an ecommerce platform as per your market demands and likings.
One of the best benefits of ecommerce for customers is they can get huge information about the products and products line that is not possible in a physical store. Data on consumer behavior, sale insights, feedback etc,. is easily available on an online platform and helpful for the owner. With the help of this information it is easier to devise marketing strategies to reach the right customers and increase sales.
Social Media: Use Facebook, Instagram and other social media apps to promote your store. Online marketing is cost effective.
Your own Website/App:

Website or App helps you showcase your collection to your potential as well as existing customers.

Retargeting/ Remarketing:

Use remarketing to send notifications to your existing customers and remind them about the sale or upcoming new collection.

Online Paid Ads:

Online business is for those who's target audience has easy access to the internet and is present online through phones or desktops. With the advances of 3G and 4G data, Google Adwords and paid promotions on social media platforms have come to our aid for connecting with our target audience.

E-mail reminders:

commerce websites help you send e-mails to your database reminding them to shop or inform about the things they left in their cart.

Contests and coupons:

Give out discount codes to bloggers where followers can use this code to avail discounts or give out coupons to winners by arranging contests online. This will not only help generate revenue but also increase customer engagement.
Genesis definitely thinks it is a smarter business idea and the future of retail industry. What do you think?