Brands adapting to COVID-19
Date : 2020-06-20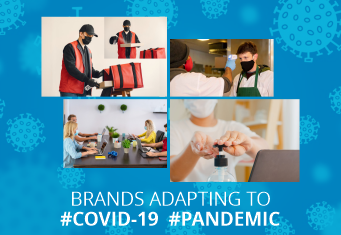 The year 2020 didn't get onto the most prosperous start. Let's have a look at how it has affected numerous brands and businesses today and how each one is coping with it to get back on their feet.
Negative Impacts: Total lockdown, widespread travel restrictions, and manufacturing closures have become a common picture in the world due to the COVID-19 outbreak. The global economy and sectors like tourism and supply chains are in total disarray. Global growth rates have taken a massive hit. The change in consumer behavior as they take protective measures against the virus is very much likely to have an immense socio-economic impact. One of the immediate impacts of the pandemic is the scarcity of products and the disruption of supply chains. Since China has been the factory for the world with companies across the world dependent on its manufacturing prowess, brands are already experiencing a hit in their supplies.
Safety measures: None of us could have ever imagined or planned for the world we are living in today. But we can survive this as well if we ensure the safety of all.
Face masks: People should wear masks for the sake of others, if not for themselves. In that spirit, brads have distributed and continue to distribute face masks to their delivery partners to keep them, as well as their customers, safe from the spread of an unlikely infection. They make it a point to educate the delivery partners on hygiene practices (not to touch face, nose, sneeze in the elbow, etc.) ever now and then.
Contactless Delivery: Amidst the current lockdown situation in India, ensuring delivery of safe, hygienic parcels to customers is paramount for all the brands. To ensure this, many brands have launched a contactless delivery option while placing the order online.
Disabling COD: For safety reasons, to avoid contact between users and delivery partners, the CoD (cash-on-delivery) is temporarily disabled on many apps.
In-house-safety precautions: 1.Self-declaration on whether they are complying with the WHO prescribed standards 2. Hand washing & sanitization stations. 3. Sanitizing their workplace regularly. 4. Checking the body temperature of employees
Going online: Where sectors like travel, hospitality, and non-essential retail, have come to a screeching halt, others like consumer packaged goods, food and beverage delivery, educational software, health and wellness and video conferencing software have seen unprecedented demand. For those brands that sell heavily in wholesale and retail channels, this has quickly become an existential crisis. Others more heavily focused on e-commerce and direct-to-consumer has seen surprisingly strong results. The reality is that most of these brands have some mix of retail and online sales now.
Promotions: With large numbers of their customers under lockdowns and/or facing uncertain financial circumstances, engaging effectively with consumers' demands new approaches. To maintain and build relationships with consumers while many are sidelined, lots of brands are upping their content marketing investments. Even though the shops or restaurants are closed, brands are engaging in creating innovative or motivational, social content and how they are planning to come back with a bang after the lockdown is over. Fitness routines, recipes, self-care at home, home clothing are such content topics to name a few. Retail brands can provide additional value through communications; as everyone prepares for the "next normal," consumers will be searching for guidance on how they can readapt.
Discounts: Companies big and small are stepping up to help in this difficult time. Memberships that are either free or heavily discounted (50% or more), free resources and deals are helping businesses, organizations, and individuals dealing with COVID-19.
Social Responsibility: People around the world are taking precautions to combat the current pandemic. Amidst all of that, many brands are doing what they can to lend a helping hand. Some have taken up the production and donation of masks and sanitizers. Others are conveying the social distancing message by playing on their logo and few connected it to their core brand message.
A few examples: Lifebuoy - Wash hands properly with any soap, Coca Cola -Today, being apart is the best way of being together, Durex- Come Inside, Just don't step out.
Adding free services, easing terms of payment, facilitating access, are some of the actions taken by brands at this level. Genesis being one of the best advertising agencies in Pune and a responsible media house, is helping many brands with all their designing and communication needs, cooperating with its clients and taking care of its employees.