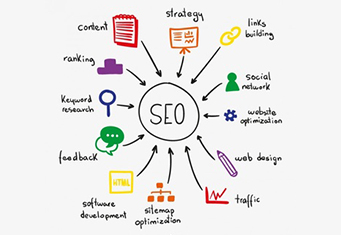 What is SEO? SEO stands for Search Engine Optimization. It basically is a process of getting free, non-paid, editorial traffic to search pages on search engines. Search engines like Google, Yahoo or Bing give out search results, where web pages, videos etc are ranked or appear depending upon what the search engine feels is the most relevant to the user. With increasing competition it is very important for brands to make sure they top their target audiences search results for the product or services they offer. For this, brands have to make sure that their website or social media is optimised at all times as per the new google algorithms. It is best for brands to outsource this to advertising or digital marketing agencies as they have the expertise in this field. Below are a few points to look into if you want to master your SEO skills.
Research your Competitors: It is important to understand what your competitors are doing, what is helping them rank at the top position on the search engines. What keywords they are targeting. How many back-links does each keyword have. It is important to understand and study which pages are ranking, whether it is a content pages, ecommerce, service pages or app pages. This will help you understand how you should proceed with your strategy.
Planning and Strategising: At this point you have studied your competitors and have a fair idea of which all keywords you want to target. You have to also understand that it does not make sense to target too competitive keywords because this only makes it difficult for you to compete with already existing optimised web pages.
Understanding the nuances of this slight difference can enable you to craft more effective headlines and focus on more specific long-tail keywords within your content.
Content: It is extremely important to have good content for you to rank on the search engine. Do not over crowd your content with keywords. Just make sure that you are providing your readers the best and relevant information. You can either write your own content or hire an agency or a content writer for the same.
HTML: It is important to have fair knowledge about HTML, coding etc. To optimise your website it is important to have appropriately written title tags & meta tags. It is also important to upload well coded Schema Markup to allow search engine to browse your content by setting up importance hierarchy. You also need to upload your analytics code to help understand customer behaviour.
Analytics: Your results will only be as good as you will be able to measure them. If you don't know where your client is spending time most of their time on your website, what content are they most interested in, what causes your visitor to bounce/ leave your website , what causes your clients to keep coming back to your website. It is important to measure all these factors and google analytics helps you do exactly that.
Stay updated: SEO changes rapidly and every day something new can happen to alter your industry. Your web page ranking is affected if google comes up with a new algorithm or if you have new competitors and they are copying all your strategies and doing it better than you. So it is necessary to continuously stay updated to current market trends and changes in the Digital marketing industry. You can stay updated by attending conferences, network with people and reading blogs.
Genesis Advertising being one of the best Advertising/ Branding Agency in Pune has worked with numerous clients and helped them rank better with SEO. We have a great Digital marketing team that can help you with all your digital marketing needs like SEO, SMM, and SEM etc.