How brands are making the most of Diwali
Date : 2019-10-24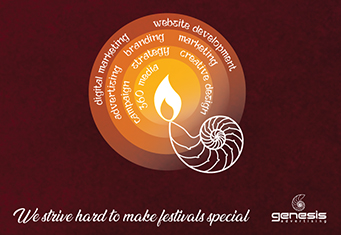 Diwali is a yet another big and luminous festival in India after Ganesh-Chaturthi and is a bang on opportunity for brands to engage with their audience and make them feel good. This is the hot period to prepare and launch their branding and marketing plans in full force in order to boost sales. With cut-throat competition, all brands strive to dominate every media format and occupy consumers' mindshare and heart-share at a time when they're willing to spend. With the intent of not only generating sales, but also creating a customer-friendly corporate brand image, it is a well-known fact that brands run several marketing activities including offers, promotions, discounts, and ad campaigns centered on Diwali festivities. In fact, now the consumers look forward to them as it is a perennial treat of nonstop shopping.
This is the time that is considered as highly-auspicious period for buying and gifting. Hence, smart marketers are well aware that customers are most likely to loosen their purse strings during festivals. Be it offline or online; decisions are mostly made considering the emotions. Brands capitalize on this and rev up their branding and marketing efforts making the most of this festive period. With the digital advancements in the festive celebration over the last few years, we can see brands now resorting to digital ads more in Diwali. These ads are now made with a lot of thought, emotional connect and creativity hitting the right cord in the festive scenario. The product in most cases usually takes a backseat and the creatives mostly focus on showing celebration, home coming and spreading joy on this occasion. Strategically crafting a brand strategy spiced up with some sensitivity pays off significantly.
Apart from Ads few of the latest trends in digital marketing or promotions are :
Contests: Brands constantly come up with different contests for customer engagement and driving traffic towards their online and offline shops. Giveaways are a strategic plan which helps them to achieve a win-win situation w.r.t sales and customer satisfaction. Usually the brands have a small 3-5 steps of contest that users need to perform and that can win them a free product of their favorite brand!
Special Offers and Discounts: Offers and discounts are a great way to create the need for shopping in the consumers and create guaranteed sales for the brands. Gone are the days when people use to shop only for festivals and now with brands coming up with unending offers shopping has become a mandate than a tradition.
Spreading social message: With the happenings in and around the world every brand has a certain corporate social responsibility towards the society that they need to practice. Also, with the intent of connecting with its customers on an emotional level, brands resort to ideas and ads that spread a social message in the society and develop a sense of being there for their customers. For example; classic Ad by Saregama Carvaan with the tag line "Shor ya sangeet" where an elderly man can be seen hugging his dog who is scared of the noise of crackers and hides under bed. While they have other lighthearted ads this one surely manages to stand out and connect with all families having pets.
Brand Value Highlighting: Along with its logo, name, design, message every brand has its own values that it believes in and represents through its communication with the end customer. Festive period gives them an extended platform to highlight these values they believe in while showcasing their products.
Sponsoring Events and Festival:Another way to make impressions is by sponsoring festive events where the brand is exposed to a large number of prospective customers or existing target audience. It feels almost as if you're a part of their festive celebrations in every way. It is the easiest way to establish a relation with your consumer on an auspicious occasion.
Genesis feels that as a brand or a customer, Diwali gives equal chance to both to make the most of this festival season! Isn't ?