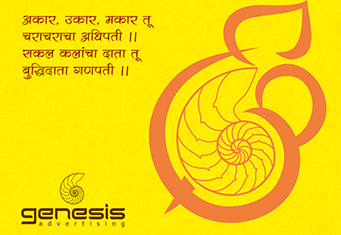 It's just 2 days to go for Ganesha Chaturthi, one of the massive festivals that celebrate Ganesha every year in India! The communal festival lasts for 10 days and ends with the Ganesha Visarjan where the Lord is bid farewell by immersing his idols in water. What we want to look at today is, just like everything else on this planet, with technological advancement, how we can see a digital revolution has taken place in the celebration of this festival as well.
To start with everybody nowadays sharing their love for Bappa with Chaturthi wishes, posting Ganesh murtis and décor pictures on social media platforms like WhatsApp, FB, instagram, etc, Brands, advertising and digital agencies integrate good wishes and love for Ganpati in their communication with heartwarming and impactful Ganesh Chaturthi creatives or Ads. Many of them resort to several online and offline campaigns spreading the social message like - Ganpati Bappa morya ! ecofriendly houya! and driving a force by encouraging people to take up eco-friendly activities and Ganesh idols.
For example; after a resounding response to the 'Vodafone Eco Ponds' initiative during Ganeshotsav 2017, taken by Vodafone Idea Limited, they repeated, 'Vodafone Eco Ponds' 2018, for the Visarjan needs of Punekars. Also, this year Dainik Prabhat (newspaper) came up with their online eco- friendly campaign named #Prabhatgreenganesha on digital prabhat platform where they carried out the eco-friendly idol-making activity in about 10 schools spreading the message to choose only shadu(made with soil) murti, even more strongly online and offline. With online food and clothing, many startups have hopped onto an online pooja services platform. A menu dropdown gives the pooja option, samagri (ingredients) selection and even a priest with language preference.
Thus helping folks who move to a new city for work purpose and who neither have the time nor the knowledge to hunt for a priest and shop for pooja ingredients in the crowded and unfamiliar bazaars. According to pooja startup experts, the Indian spiritual and religious market, which is one of the largest unorganized segments, is valued at $40 billion. India, with a population of over 1.2 billion, is home to 330 million gods and goddesses. Apart from the eco-friendly idol making, the innovation in Ganesh idol making took me to surprise when I saw a Ganesha who carried an Apple iPad, rather than his traditional book.
Digital marketing gives brands tools like offers, discounts, a contest which is another platform for social media freaks! Exciting them to be a part of the brand's celebration and showcase their creativity in various social media campaigns like best Ganpati décor, best modak recipes, best selfies with Bappa, etc., brands en-cash their consumer participation in different ways. Not to forget how sponsors for these online and offline campaigns get a very strong ad emotional platform to connect with their audience. An excellent digital campaign – lokmat's webseries showing Ganesh murti darshan, celebration and visarjan of Laal baug cha Raja -of one of the biggest and famous mandals in Mumbai, was a mesmerizing 10-day virtual treat for all.
Many TV, digital or social media channels covering and streaming aarti, pooja, darshan, etc, of these renowned and big mandals are nothing less than a VIP pass for busy folks and senior citizens who have a strong emotional connect with the cities oldest temples and Ganpati mandals, allowing them to enjoy all of these virtually eliminating the FOMO and stressful trip in the crowd.
These are just a few examples and points sating the contribution of digital platforms to our festival celebrations. As a creative Ad agency in 'Pune' where this is the biggest festival, we strongly believe that this is just the beginning and that day is not too far when we might book our Ganeshas online :D What do you think? We would love to know your thoughts on this!